The asUDP Xtra does UDP datagram send and receive.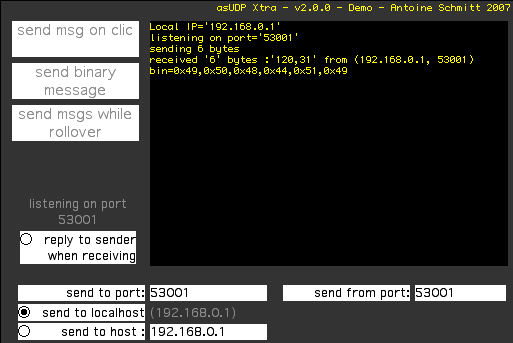 It is both an UDP server and client. It can communicate with any datagram UDP-enabled application on the internet (another Director movie using the same Xtra or another program using the UDP protocol, like processing, PureData, etc…). The asUDP Xtra can listen to any port on the local computer, the asUDP Xtra can send to any port on any local or remote IP address.
Shockwave-safe and autodownloadable.
MacOSX 10.5 to 10.9
Windows XP to Windows 8
>= Director 11

Contains a free OSC encoder and decoder demo written in lingo, for receiving OSC in Director and sending OSC from Director.
March 2014 : The port to MacOS Mavericks and management of multiple IPs has been made possible with the support from www.experientialdesignlab.com.
Download asUDP Xtra 4.1

Download : asUDPXtra_4.0
As of version 4.0 (march 2014), asUDP is now free.

For DirectorMX users : asUDPXtra_3.1.2
and use the following user and password :
username : "Antoine Schmitt"
password : "889KEHEisztE7Fg861FAJEAxrfmmHqHm0De"
Opensource
As of version 4.1 (march 2016), asUDP is now opensource.
Download source code : asUDP4.1source.zip