The asMultiChannelAudio Xtra is a multichannel sound scripting Xtra : it enables Director to output sound to sound hardware having more than 2 channels, for example 8 or 16 channels. With this Xtra it is possible to play audio on 8 or 16 speakers for example.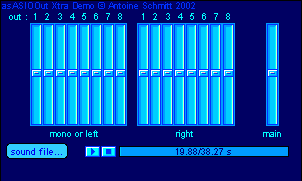 Features:
• outputs audio to multichannel sound cards
• plays an unlimited number of sound files simultaneously
• dynamic modification of the volume matrix of each sound while playing
The Xtra was called asASIOout Xtra in the past.
Download (140 Kb) : asMultiChannelAudio4.0.zip
Platforms :
• Macintosh MacOSX
• Director MX / MX2004
• shockwave-safe but not autodownloadable
Free