asFFT Xtra
An Xtra for Macromedia Director that does a FFT (Fast Fourier Transform) on live sound input.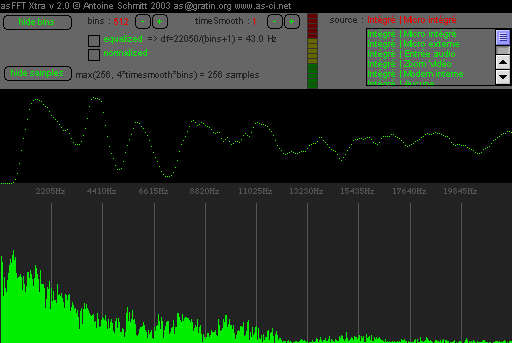 Platforms :
• Macintosh MacOS9-MacOSX (PPC and MacIntel)
• Windows 95/98/2000/XP w/ DirectX5
• shockwave-safe and autodownloadable
• Director 7 to 8.5 + MX + MX2004 + Director11

Features
computes FFT (Fast Fourier Transform), i.e. frequency values, on live sound input
direct access to live sound samples
sound input selection by code: in lingo, you can select the sound device and the sound source.
global instantaneous volume : access the current volume of the sound input
equalizer switch : gathers the frequencies according to human hearing
normalized switch : the frequency values are proportional to the sound volume, giving more intuitive values.
autodownloadable packages
Usages
simple live lip sync
VJ visual animations synchronized to live sound (DJ)
live equalizer display
psychedelic animations on music
sound-driven artistic installations
simple voice recognition
download asFFT
Macintosh OSX & Windows 95/98/2000/XP/Vista/W7
Download (390 Kb) : asFFT2.6.zip
Macintosh PPC OS8 to 9
Download (164 Kb) : asFFT2.0.8Mac.sit
Demo version has an alert panel in Authoring mode and does not work in Projector or in Shockwave :
buy asFFT
Click here to buy securely and easily from ShareIt!
single user licence : 29 €
+TVA/VAT if applicable
The password that you will receive by email will unlock the demo version and will work with all 2.x versions on all platforms.
=> More than 350 registered users !