The fluidXtra is an Xtra for Adobe Director which integrates the fluidsynth software sound synthesizer into Director. It gives access to all the features of fluidsynth, and adds a few features, especially the ability to load sound files and sound cast members directly into the synth.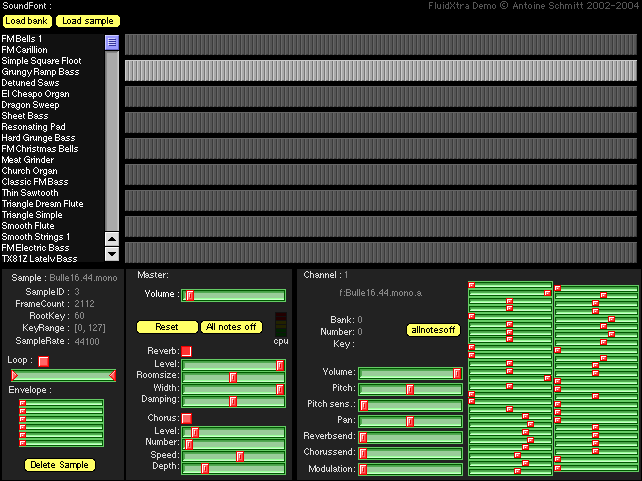 Non-exhausitve feature-list :
implements the full soundfont2 specification
MIDI compatible
uses sample file or sound cast member as intrument
unlimited number of sound voices
realtime effects through generators (pitchbend, LFOs, loops, …)
global reverb, chorus
independent sequencer (millisecond precision)
The fluidXtra has been developped by Antoine Schmitt as part of the "infiniteCD Author" project managed by Antoine Schmitt and produced by Hyptique, with support from the PRIAM funds from the French government. As it is too much work to maintain this large API and codebase, we have decided to give it for free and open source under the LGPL license. Source code is available in the download section.
The fluidsynth software synthesizer has been designed by Peter Hanappe, and is maintained by an active opensource network. It available under the LGPL licence. It emulates in software the SoundFont 2.01 Specifications designed by Creative Labs (SoundBlaster maker). It is basically a small, fast and robust wavetable synthesizer, with a MIDI-like interface, integrated sequencer and realtime effects. The official page of the fluidsynth synthesizer is here.
The fluidXtra uses SoundFont banks. Free SoundFont banks can be found on the Net, for example on the HammerSound site or the Real Midi site. For a free SoundFont editor (Windows), check out Vienna.
Version 6.2(oct13)
Free and OpenSource
Compatibility :
– MacOSX
– Windows (XP, Vista, 7)
– Director 11.x
jul 2012:
– ported to fluidsynth1.1.5 (bug fixes)
– added a recording API to record the sound output to disk
[with the support of Marcel Blum for his Soundplant project]
Download fluidXtra
Download fluidXtra 6.2 (Director 11.x)
Xtra + documentation + demo .dir + autodownloadable packages
fluidXtra source code
fluidXtra is open source. Here you can download version 6.0 from jul08
Download fluidXtra 6.2 source code
Goodies : Midi to fluid
A slim and clever Director movie containing a MIDI-1 file parser and a MIDI player that uses the fluidXtra engine.
In source code, free.
Author, contact : Todd Rundgren
Download : fluidmidiparser.dir.zip (16 Kb)